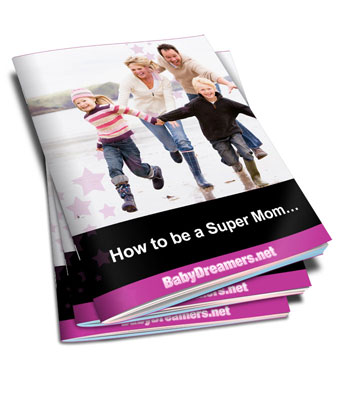 Being a mom is probably the most important job in the world – we've all heard that, and it's true. You're bringing up the next generation of wonderful, intelligent, loving, creative, responsible people.
That's a big deal!
And while you love being a mom, and wouldn't trade that part of your life for anything, sometimes juggling motherhood, your relationship with your significant other, business and career, friendships, and trying to take care of yourself (which, by the way, is very important) gets a bit tough.
We all want to be Super Mom and to be everything and do everything, but it this possible?
Being a Super Mom is possible, but you have to learn how to empower yourself to be the kind of Super Mom that you feel you need to be, keeping in mind that the title Super Mom doesn't mean the same thing to everyone.
How to be a Super Mom has been created to give to tips to make sure you enjoy one of the most amazing times of your life, being a mother….
This Help Guide has the following chapters
Even Supermoms Get Stressed Out – Page 7

Don't Feel Guilty If Being a Mom Stresses You Out – Page 9

Why Are Mommy Duties Draining? – Page 11

It's Okay to Have a Life – Page 12

Getting Your Mom Rights Acknowledged at Work – Page 14

How to Relax When You Only Have a Few Minutes of Peace and Quiet – Page 16

Make Sure You Disconnect to Stay Sane – Page 18

Making the Tough Decision to Be a Stay at Home Mom – Page 22

Quick Beauty Tips to Present Your Very Best Self – Page 24

Teaching Your Kids to Be Good People – Page 26

Sneaking in Exercise When You Have Kids Onboard – Page 28

What to Do When Your Child Is Being Bullied at School – Page 30

Easy and Affordable Home Spa Treatment – Page 32

Your Version of Perfection – Page 34
Great News!
How to be a Super Mom… is available via instant download! You can start reading this in 5 minutes time! Even if you have never downloaded something from the internet before it comes with instructions, it's so easy!
Zero shipping costs.
No waiting time, forget having to wait weeks for postal delivery.
No risk of products lost in the mail or damaged.
You receive the book at a lower price because it costs us less to produce.
Download Now 100% Secure
To ensure your information stays secure, BabyDreamers™ payments are backed by McAfee Secure, so you know you can order from us at any time in full confidence!
No-Risk Secure Acceptance Form!

YES, I want a copy of 'How to be a Super Mom…' and All The Unadvertised Bonuses Now!

My amazing package is Yours Risk Free for only $14.95

Goods and services provided by BabyDreamers.net
Sold by ClickBank Inc., Boise, ID USA.